How to balance mobility and security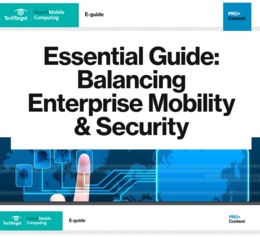 When it comes to mobile security, companies typically apply only one layer of defense and will often forget to set automatic updates, leaving their corporate data vulnerable to attack, increasing the chance of data loss or leakage.
All companies should have basic security coverage that protects their mobile data through backups and encryption practices.
Take a short survey to download this guide and learn how to properly protect your mobile data by putting the right security in place. Topics include:
3 steps to better mobile data protection
3 mobile security threats IT should know about
Mobile data loss: Threats and countermeasures
And more
Download Your eGuide Now!