Exchange Server & Office 365 backup tools & tactics
The Go-to Guide for Exchange Server & Office 365 Backup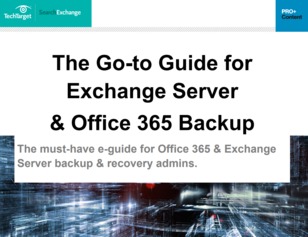 Because email is critical to your organization, securing and backing up email files and data in case of a disaster should take top priority - especially for SaaS workloads.
Even administrators tasked with backing up Exchange Server, which can be deployed on-prem or in the cloud, must familiarize themselves with what data exists where and how to protect that data.
To help your company with this venture, we're providing you with an exclusive guide that walks Exchange admins through key backup challenges, and Office 365 or hybrid messaging admins through Office 365 backup.
Download your PDF of The Go-to Guide for Exchange Server & Office 365 Backup here!