Unite 5G and Wi-Fi 6 in 2021
Unite 5G and Wi-Fi 6 in 2021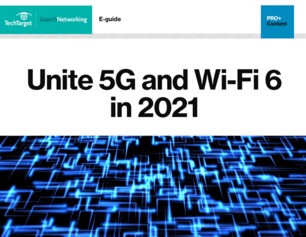 5G and Wi-Fi 6 can work together to create a better mobile network. But in order to get the most out of either technology, enterprises need to evaluate potential benefits and use cases associated with them. Now, you can explore these factors and more in our expert guide, Unite 5G and Wi-Fi 6 in 2021. Topics include:
Why (and how) wireless and cellular can coexist
Wi-Fi 6 and 5G on the network edge
4 key improvements of Wi-Fi 6 over Wi-Fi 5
And more
Download Your Resource Now!