The Hybrid Cloud Bible, 2021 edition
The Hybrid Cloud Bible – 2021 Edition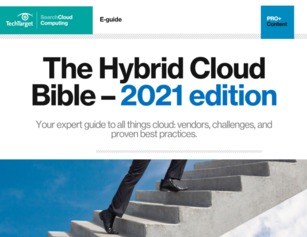 Hybrid cloud is everywhere in today's business world – but succeeding with this strategy in 2021 and beyond requires some careful planning.
Take a minute to answer a few questions on your cloud infrastructure pain points and receive immediate access to our new eBook, The Hybrid Cloud Bible – 2021 Edition. Highlights inside include:
The top hybrid cloud vendors, compared
5 hybrid cloud security challenges you need to know
Hybrid cloud connectivity: Proven best practices
Unlock all this and more by taking our quick Cloud Infrastructure survey now!