Computer Weekly – 25 February 2020: Using meteorological data to prepare for the worst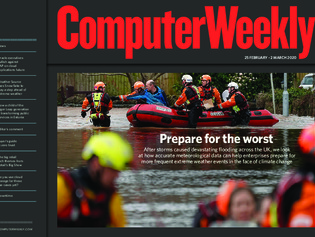 In this week's Computer Weekly, after the storms that swept across the UK, we look at the technology behind Weather Source's meteorological data service. Oracle and SAP are battling over customers to upgrade their ERP systems to the cloud. And we report from the world's biggest retail tech show.
Also featured: 
Estonia's chief information officer, Siim Sikkut, is one of a generation of tech-native Estonians and is turning his knowledge and experience to transforming government services.
Today's hyper-connected world means trust can no longer be taken for granted to keep networks secure - enter the zero-trust model
We look at the use cases most suited to a quick transition to the cloud: backup, archiving, disaster recovery, file storage and cloud bursting – cloud storage's low-hanging fruit.