Computer Weekly – 11 February 2020: How the Post Office caused so much misery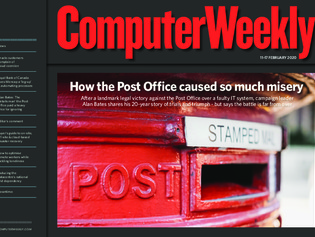 In this week's Computer Weekly, after a landmark legal victory against the Post Office over a faulty IT system, campaigner Alan Bates shares his 20-year story of trials and triumph. Oracle is under fire over its cloud sales practices – we examine the claims. And we look at the sustainability challenges for datacentres and how they can reduce their load on the national grid.
Also featured:
UK charity Mencap gets help from Royal Bank of Canada in collaboration aimed at creating robotic workers.
With remote working becoming more common, how do businesses ensure employees remain productive and connected? 
In the first part of our buyer's guide to on-site, off-site & cloud-based disaster recovery - we look at the various options available when implementing disaster recovery, and how much they're worth.