Your company's soup-to-nuts DR planning essentials
searchDisasterRecovery's Verified BC/DR Planning Templates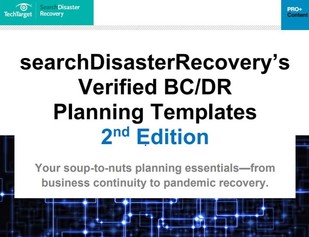 In a 2019 study commissioned by StorageCraft of 700 companies worldwide, a meager 22% of respondents indicated that they do not test their DR plan, and only 68% were confident in their ability to recover quickly.
So, what about in your company? What if, for example, you were hit with a ransomware attack or experienced a malfunction in its data center sprinkler system?
Whether your company is in the early stages of establishing a DR plan or it's time to retest, we've got you covered: we just released the 2nd edition of our Verified BC/DR Planning Templates!
Simply answer a few simple survey questions about your current DR strategies and you'll be on your way!
Download Your Resource Now!