Understanding Composable Infrastructure, the New Infrastructure on the Scene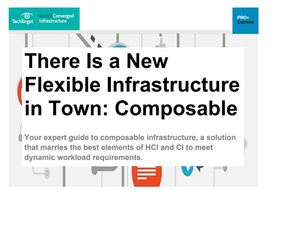 Though you may be surprised to hear it, composable infrastructure is not just a new buzzword, but rather an emerging approach aimed at improving upon the precedent HCI and CI set before it.
Because of composable infrastructure's flexibility and speed, admins can rapidly configure and reconfigure disaggregated IT resources to meet specific workload needs and fulfill DevOps initiatives. Want to see how, and how your company could potentially benefit from this approach?
To give you an overview of the composable infrastructure landscape, I've created an exclusive composable e-book that discusses this 'new infrastructure in town'—it covers everything from use cases and vendors developments to HCI/CI comparisons and FAQs. Access it here
Download Your Resource Now!