Declaration by David Godkin with 218 exhibits – 17 May 2018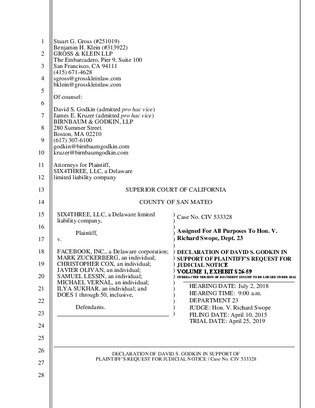 This is a declaration by David Godkin, counsel for app developer Six4Three, producing 218 exhibits. The exhibits cover a wide range of material relating to Facebook, including news cuttings, press releases and blog posts. The exhibits present a timeline of what was publicly known and when, and is most useful when compared against the internal Facebook communications included in Godkin's 16 May declaration. The documents were placed under seal in the state court in San Mateo County, California, after Six4Three, developer of the Pikinis app, sued Facebook in 2015.
Download Your Resource Now!