Computer Weekly - 10-16 September 2019: A tech boost for social care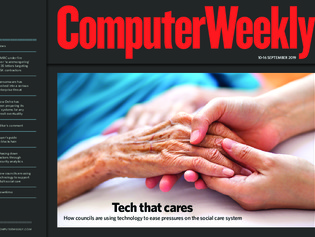 In this issue, we explore how local authorities across the UK have been looking at assistive technologies, ranging from collaborative robots to voice assistants, to support delivery of adult social care services. We also look into the ramifications of HMRC targeting 1,500 GlaxoSmithKline IT contractors.
Also featured:
Ransomware has seen a resurgence since the start of 2019, with cyber criminals changing code and tactics to target enterprises and local authorities for higher ransom payments, McAfee researchers warn. 
The director in charge of building and implementing the core systems supporting Defra discusses the present and future of a new function for hundreds of staff.
The first part of our buyer's guide to blockchain looks at the complex challenges that must be overcome before the technology can truly become the disruptive force many believe it to be.
With security threats growing in scale and complexity, security analytics tools provide a way for IT teams to stay a step ahead of cyber attackers in the ongoing game of cat-and-mouse. The challenge is to ensure this technology continues to be effective in the face of evolving security challenges.