Computer Weekly – 28 May 2019: Technology at heart of Spurs' new stadium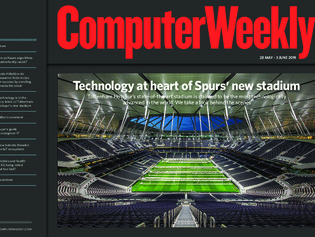 In this week's Computer Weekly, Sanjeev Katwa, the IT chief at Tottenham Hotspurs Football Club, discusses the tech behind the most technologically advanced football stadium in the world. We investigate how the data powering artificial intelligence is leading to discriminatory algorithms and explore the inherent risks in 5G mobile networks.
Also featured:
When Switzerland-based hospitality school École Hôtelière de Lausanne began to automate its processes, it was met with staff inertia, but that changed after Amelia the robot arrived.
Microsoft is dropping its table d'hôte-like Windows 7 menu in favour of a more tapas-style offering, in the form of Windows 10. These small and frequent updates will mean big changes for sysadmins.
Connected devices are transforming our personal and working lives, but attackers are hijacking these devices and turning them into internet of things botnets.