The last mile to the individual customer: Sales and marketing software trends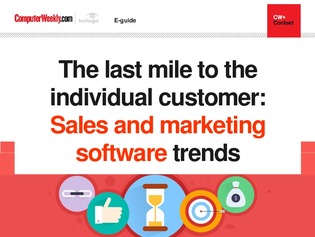 2018 saw a ratcheting up of competition in respect of companies getting to the customer: being truly customer centric, offering personalised experiences, harnessing machine learning, and taking advantage of voice based digital assistants, and so on.
It could be the next logical stage in the digital revolution: first enterprises automate the back office with enterprise resource planning systems (the 1990s/early 2000s); then they move their businesses to the web (late 1990s throughout the 2000s); and now they "reach out" to the customer in personalised (but GDPR compliant) ways at scale, and globally.
Certainly, competition in this space is, from a vendor point of view, red hot. SAP has, in 2018, made a strategic turn to the customer, under the banner of C/4 Hana, named after its S/4 Hana ERP system, built on the in-memory, columnar database Hana. And it acquired, in 2018, no fewer than three companies in the customer experience and commerce market: lead-to-cash software-as-a-service (SaaS) supplier Callidus Software, customer identity management platform provider Gigya, and Qualtrix, an experience management software supplier. All of which has added to the capability it gained with the 2013 acquisition of omni-channel commerce company Hybris.
Rival Salesforce acquired quote to cash vendor Steelbrick in 2014, and rebranded it as Salesforce CPQ in 2016. One of its original partners Apttus, also a quote to cash vendor, has, this year, come under the wing of private equity group Thomas Bravo, which has taken a majority stake in the supplier. It aims, as its chairman and interim chief executive recently David Murphy told Computer Weekly to be a major player in what it calls the "middle office", between ERP and CRM [customer relationship management].
And Adobe has filled out its enterprise software offer, in 2018, with its acquisition of e-commerce vendor Magento, then followed that up by acquiring marketing software company Marketo.
From this e-guide you will learn about such developments in sales and marketing enterprise software in 2018, with a view to 2019 – from Computer Weekly and from our specialist US TechTarget site SearchCRM.