CW ASEAN – December 2018: How to make the right cloud infrastructure choices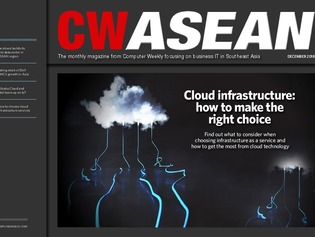 Across the ASEAN region, more companies, including bigwigs such as Southeast Asia's largest bank DBS, are turning to cloud infrastructure services to augment or even replace their entire IT infrastructure in some cases. In this month's edition of CW ASEAN, we take a look at the considerations when choosing infrastructure as a service, and what needs to be in place for enterprises to get the most out of the cloud computing technology.
Also in this issue:
Facebook builds its first datacenter in ASEAN region in city state Singapore
The high-rise facility will be the first of its kind to incorporate Facebook's StatePoint Liquid Cooling datacenter cooling system, cementing Singapore's position as a datacenter hub.
Taking stock of Dell EMC's growth in Asia Tech supplier
Dell EMC is riding on a growing demand for servers and hyper-converged infrastructure, and investing in more technical resources to support enterprises in digital transformation efforts.
Alibaba Cloud and Intel team up on IoT
Joint Edge Computing Platform enables enterprises to train artificial intelligence models at the edge of a network to support real-time decision-making