Computer Weekly – 6 November 2018: After 10 years, Post Office IT system goes on trial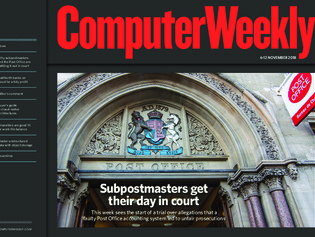 In this week's Computer Weekly, 10 years after we revealed concerns over the Post Office's Horizon accounting system, affected subpostmasters finally get their day in court. We look at how businesses are turning to wearable technology to help employees stay healthy. And we analyse the key players and products in the market for object storage. 
Also featured:
Challenger bank's COO, Amir Nooriala, talks about wanting to be fully cloud hosted, going through a huge cloud migration, and being able to rebuild the firm's core banking platform in five hours.
In the final part of our buyer's guide to cloud-native architectures, we assess the suitability of Microsoft's Azure platform for deploying cloud-native applications.