4 Ways to Improve Video Conferencing Tech with AI
Improve Video Conferencing Tech with AI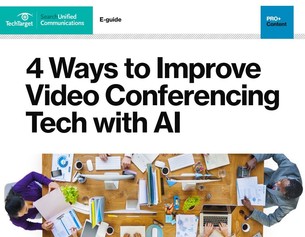 Employee demand is the primary driver for increasing large -room video conferencing, just as it is for increasing video conferencing within small rooms and on desktops. Given the rapid increase of video conferencing in the consumer world - thanks to apps like Apple's FaceTime, Google Hangouts, Microsoft Skype and WhatsApp - workers expect to have video conferencing in the workplace.

Read this expert guide to learn about the current state of large-room video conferencing, and explore 4 ways AI services can help improve meeting room technology after a quick survey.
Download Your Resource Now!