CW ASEAN: Unlock flash opportunities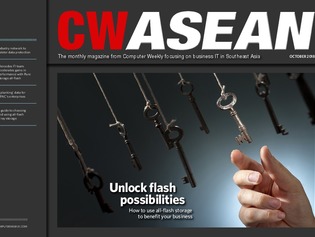 Traditional disks can no longer keep up with the needs of modern enterprises, which now rely more on business-critical software to digest heaps of corporate and customer data in order to make quick business decisions. In this issue of CW ASEAN, we take a look at how enterprises are taking to all-flash array storage, the factors to consider when laying out a flash storage strategy, and what enterprises need to do to lay the foundation necessary for getting the most out of the technology.
Also in this issue:
New industry network to bolster data protection in ASEAN

The Data Protection Excellence network will assist organisations and individuals new to data protection laws by providing hands-on training and professional certification courses.
Mercedes F1 team makes gains with Pure Storage all-flash

Two years ago, the Mercedes AMG Formula 1 team deployed Pure Storage all-flash arrays in its datacentre and in mobile racks out on the circuit. It's a bet that has paid off for the racing team.
'Splunking' data for APAC's enterprises
Splunk's regional vice-president, Chern-Yue Boey, tells Aaron Tan about the company's business strategy and how its customers are using big data analytics in security and IT operations.