It's hyper converged-with-everything in today's datacentre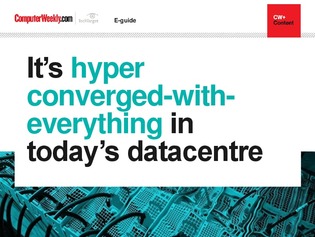 Hyper-converged infrastructure has taken the datacentre by storm.
At heart it is the marrying of compute and storage in one box, but with a couple of crucial additions.
These are the ability to combine multiple nodes into a single cluster, with resources shared in grid-like fashion between them. And, at the same time, that is usually accompanied by a built-in virtualisation hypervisor.
Those characteristics make hyper-converged infrastructure simple to roll out and manage, and well-suited to use cases that range from SME deployments to multiple-node enterprise implementations.
In fact, it's almost a case of "We're all hyper-converged now", as the datacentre-in-a-box threatens to eclipse the shared storage array.
In this e-guide we look at the key hyper-converged vendors and their products, as well as hyper-converged tailored to disaster recovery, backup, cloud functionality, and the software-defined hyper-converged products available.