Focus: Campus local area networks (LAN)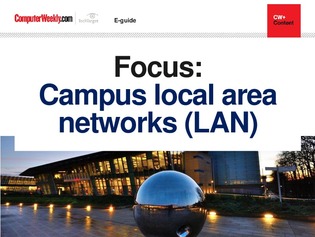 Whether a university buzzing with Gen Z students carrying multiple devices, who have never known a life offline or a large enterprise headquarters spanning multiple buildings with a Millennial workforce that expects the latest and greatest standards of connectivity, the demands now being placed on campus local area networks (LANs) are massive.
And just as datacentres did in the past, campus LANs are coming to be defined more and more by virtualisation and software-based controls. Alongside this trend, LAN hardware continues to improve in its capabilities, as network managers try to keep up with the intense demand
In this e-guide we will explore some of the key trends driving the market for campus LANs and ask how to implement one, find out how one user went about building a network from the ground up on a brand-new site, and look in-depth at some of the active suppliers in the market.
First, we look at how to go about designing and implementing a modern campus LAN, taking into account advances in software-defined and automation.
Then, we will take you behind the scenes at the UK's University of Northampton to discover how the IT team was able to take advantage of a move to a brand new campus to deploy the latest and greatest networking technology in support of a new model of learning for a new generation of students.
Delving deep into the infrastructure itself, tech evangelist Paul Ryan reveals how copper-based LANs are increasingly unfit for purpose in a digital business, and argues in favour of upgrading to fibre-based passive optical LANs.
Finally, enterprise IT and network design specialist Andrew Froelich looks at some of the key suppliers in the campus LAN space, running the rule over technology from HPE, Huawei and Juniper Networks.