Focus: Enterprise Mobility Management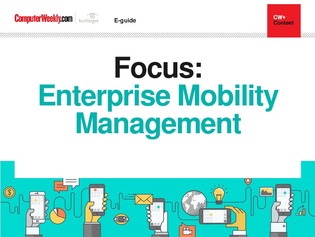 If your business does not have some kind of strategy for enterprise mobility management, then are you really running a business at all? At the very least you're sailing perilously close to the wind when it comes to enterprise cybersecurity.
In this e-guide, we will explore exactly these topics, looking in-depth at some of the key trends and developments in the world of enterprise mobility, as well as keeping a watchful eye on cybersecurity.
First, BrianMadden.com's Jack Madden rounds up the fundamentals of enterprise mobility management, and reveals why it's important for you to understand it.
Still not convinced you need to manage how your employees use mobile technology in the workplace? Rene Millman looks at the world of mobility management from the point of view of the SME, and how to maximise the potential of mobile tech.
Meanwhile, in the land Down Under, organisations are mindful of the productivity and flexibility benefits of enterprise mobility, yet remain determined to achieve systems governance to protect themselves. Beverley Head examines the Australian holistic approach to enterprise mobility.
Finally, security consultant Kevin Beaver offers up some tips on enterprise mobile security, looking specifically at password management best practice. Traditional approaches to passwords are no longer valid, Beaver argues, and IT departments need to find new ways to manage both users and applications.