Advanced analytics meld with machine learning to press more value from big data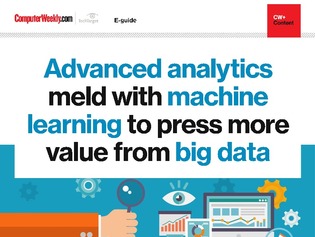 There has long been a distinction, within the field of business intelligence and analytics, between the former and the latter. BI is traditionally about reporting what's happened, against a data warehouse or other database; while analytics is about statistical analysis to predict the probability of things happening.
Advanced analytics is also now melding with the machine learning sub-set of artificial intelligence, with the rise, and now consolidation of big data environments, like data lakes, in organisations. Often, when people say "AI" they really mean machine learning that then feeds into the analytical work done by data scientists, using a plethora of data preparation and visualisation tools, as well as statistical analysis tools from SAS, the R programming language, Python, and so on.
As often, Silicon Valley is the place where some of the most pioneering technologies are being developed. On a trip to the Valley in March 2018, Computer Weekly found a slew of California-based startup and early-stage data analytics companies promising CIOs better ways to get value from their investments in databases and analytics. The lead article in this e-guide provides an account of what this group has to offer.
SAS co-founder and CEO Jim Goodnight is one of the pioneers of the field of statistical software analytics, and one who insists on the distinction between mere BI and analytics. In this interview he says the value of the current vogue for artificial intelligence lies in massively parallel computing, as well as cheaper storage.
Also from SAS, Peter Pugh-Jones, head of technology for the firm in the UK & Ireland, reflects, in a guest blog-post, on how the analytics industry is evolving and what organisations need in a data-driven economy.
One aspect of this evolution is the infusing of artificial intelligence into business applications. And so, customer analytics applications developers are seeking to add layers of machine intelligence to improve sellers' interactions with buyers online.
One instance of this is the self-styled "Uber of Wi-Fi", iPass, which is using Databricks' Unified Analytics Platform and machine learning to monitor its worldwide network and help its customers get a better experience.
It is not only data scientists who need to do data discovery that goes beyond simple BI reporting. The data visualisation tools developed over the last fifteen or so years by the likes of Qlik and Tableau continue to gain ground among corporate users. One recent example is the United Nations, which has decided to use Tableau as a global standard.
Finally, we discover how, down under, Australia is becoming a hot zone for data analytics development and use.