Computer Weekly – 15 May 2018: Will government IT be ready for Brexit?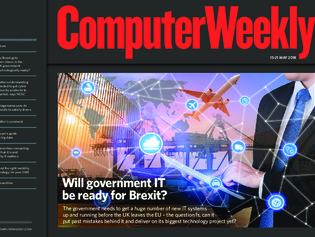 In this week's Computer Weekly, as the UK government struggles to get new IT systems up and running before Brexit, we examine the challenges ahead and the departments with the biggest problems. We look at serverless computing and ask why this emerging cloud technology is so important for IT leaders. And we discuss the latest best practice in mobile strategy for SMEs. 
Also featured:
Scaling up accelerator programmes and creating a standard way of talking about and rating security products can help get innovative ideas to market, says the National Cyber Security Centre.
Wagamama CIO Richard Tallboy talks about its "pay by walking out" technology.
Siemens has turned to process mining to reveal inefficiencies in the way it pays suppliers, organises logistics and runs order-to-cash processes.