CW ASEAN: SD-WAN helps find best route to cloud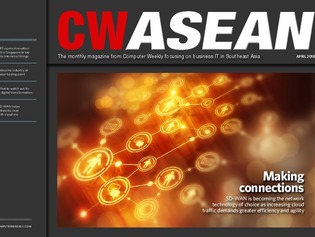 The traditional WAN was architected for branch-to-datacenter traffic flows, not to efficiently support new cloud-driven traffic patterns. This year, more enterprises will adopt a "cloud-first" SD-WAN architecture designed to efficiently support their increasingly cloud-based application mix. In this issue of CW ASEAN, we take a closer look at how ASEAN enterprises gearing up for this eventuality.
Also in this issue:
HPE opens innovation lab to tap IoT market
A recently opened facility in Singapore will help build collaborative partnerships across the internet of things ecosystem to test applications powered by HPE's edge computing capabilities
Telecoms industry at major tipping point
Communications service providers should leave behind their existing operating model to gear up for a software-driven operations model and embrace microservices and DevOps to thrive in the digital economy
What to watch out for in digital transformation
IT leaders need to consider new performance indicators, adopt an embedded digital business model and build up an enterprise-wide digital platform to avoid digital deadlock.