Computer Weekly – 20 February 2018: The enterprise opportunities for smart speakers
Computer Weekly – 20 February 2018: The enterprise opportunities for smart speakers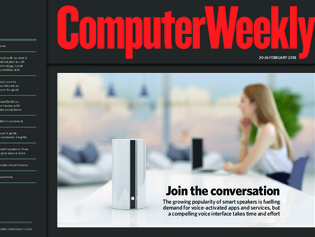 In this week's Computer Weekly as voice-activated smart speakers grow in popularity, we examine how IT teams can use the technology in enterprise applications. Our latest buyer's guide looks at the latest developments in customer relationship management (CRM). And UK tech sector leaders tell Parliament why they are so worried about the industry's prospects after Brexit. 
Also featured:
Private cloud makes consumption of storage easier for the user and simplifies delivery for the IT department. We walk through the key components and platform choices.
Engineering student Lauri Love plans to help businesses fight cyber crime, after the court of appeal ruled he can be tried in the UK for allegedly hacking US computer systems.
Gavin Scruby, CIO of SmartDebit, talks about the challenges of balancing innovation with regulatory compliance.