CW Europe – December 2017
CW Europe – December 2017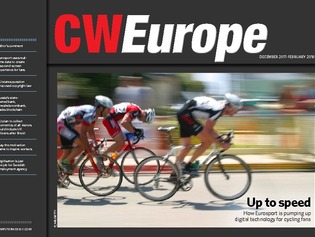 As director of global cycling production at Eurosport, Laurence Schirrecker is at the front line when it comes to combining technology and information to develop immersive viewing experiences for sports fans across a range of platforms.
Technology in sports is becoming big business as broadcasters look at ways to keep audiences in contact with their favourite events via their preferred channel.
Traditionally, the nature of cycling makes it difficult for fans, and for that matter the teams supporting competitors, to get close up to the action, but things are changing.
Find out how Eurosport is ensuring enthusiasts can not only keep up with races, like La Vuelta and the Tour de France, via mobile phones but be given a level of detail unthinkable just a few years ago.
Speaking of races, there is a race on among enterprises to make use of blockchain technology. Also in this issue, we take a close look at Russia's state-owned bank Vneshekonombank (VEB) which wants to drive the take-up of blockchain in Russia. It has opened a blockchain competence centre in Moscow at the National University of Science and Technology as part of a wider strategy to introduce the technology.
Blockchain has its roots in financial services as the distributed ledger technology underpinning bitcoin, but it is now being utilised way beyond banking walls. In fact, one of VEB's main initial objectives around blockchain is to create an infrastructure that will later be used by the country's public sector.
Also in this issue, read about plans from the European Parliament to introduce a new electronic system to store biometric information on all non-EU citizens travelling in and out of the bloc, which could include British citizens after Brexit.