Emerging Trends and New Developments in Software-Defined Networks
Emerging Trends and New Developments in Software-Defined Networks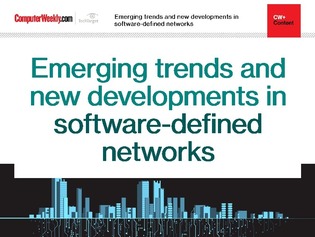 Software-defined networking (SDN) – the practice of using applications to control traffic flow across an enterprise network in the name of increased flexibility and agility, and crucially, decreased cost – has now become widely accepted across practically all verticals to the extent that it has come to dominate conversations about networking.
But despite its widespread acceptance, SDN is still a rapidly developing technology. Innovation and evolution in this sector is coming thick and fast, and there is no shortage of new information for network managers and CIOs alike to keep pace with.
In this e-guide, we sit down with Sorabh Saxena, AT&T CIO of networks and shared services, to discusses how to reskill telecoms engineers and exploit open standards as the operator embraces the future of networking services provision and the transition to network software, rather than network hardware, while Andrew Froelich of Westgate Networks shares some top advice on how to adopt a viable SDN training strategy, and CIMI's Tom Knolle explores some emerging SDN service models.
Meanwhile, Talari Networks' Atchison Frazer argues that at a time when CIO are constantly trying to make savings and generate new revenue, adopting SDN can help monetise the enterprise network and make money for the business.
Finally, Rene Millman explores the advent of intent-based networking, and finds out how applying automation techniques and advanced analytics to the software-defined network is expected to bring even more benefits to the enterprise.