8 cloud certifications that can boost your career
Cloud Security Certifications 101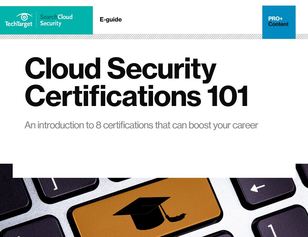 ISACA's State of Cyber Security 2017 report finds that on average, 59% of enterprises get at least 5 applicants for each open cybersecurity position, and most of those applicants are unqualified.
As cloud services continue to grow (Gartner predicts that by 2020, more than $1 trillion in IT spending will be directly or indirectly affected by the shift to cloud), the demand for qualified security pros in cloud computing will only increase.
Experts Ed Tittel and Mary Kyle examine cloud security certifications, both vendor-neutral and vendor-specific, so that you can find one to demonstrate your skillset.
Fill out our Network Security Survey to access our exclusive Cloud Security Certifications 101 guide. Inside this invaluable resource, you'll find:
An alphabetized list of cloud security certifications
A brief description of each certification